I got me some green tea with honey today :) It's really nice @.@
Anyway, found 5 really cute and cool blogs today! I admit I was looking for more giveaways to enter, but they're really cute, so I spent two hours going through them, squealing :3
Prizes
♪ Dolly Wink Lashes No. 2 (Sweet Girly) & No. 14 (Natural Cute)
♪ My Beauty Diary Masks Japanese Cherry Blossom & Arbutin Whitening
♪ Canmake Cream Cheek No. 7 (Coral Orange)
♪ Revlon Lip Butters in Peach Parfait and Sugar Frosting
♪Maybelline The Falsies Flared Mascara
♪ Too Faced Lockdown Cream Eye Shadow in I'm Guilty (teal)
♪ Too Faced Galaxy Glam Smoky Eye Shadow in Moon Beam
♪ Set of Fashion nails from Love & Beauty (F21)
♪ Set of Clip on bows from F21
♪ Floral Necklace from F21 in my favourite colours, pink and yellow!
Just go and look at that blog post for prizes. It's a beautiful post @.@
Canmake Powder Cheek: Peach Pink
Whitening Soap: Orange
Circle Lens:Cinderella Pink
Pair of Eyelashes
Nail decoration Set
Pan Dermacare Skin Treatment Set
Pink Polka Ribbon
2 Seashell Keyholder
Flower Earrings
12Plus Lip Gloss
3 different prizes for 3 lucky people!
First Prize:
Tote bag

Innoxa Lovely Lips Lipstick in "English Rose"

Nude by Nature Soft Focus Illuminator Liquid Mineral Illuminator

Natio Mineral Pressed Powder

MaxFactor Xperience Volumising Mascara in Black

Modelsprefer Kohl Pencil with smudger in matte black

1000Hour Nail Foils set including Foil Applicator, Nail File and Scissors

Press & Go Press-on Manicure

Rimmel I Heart Lasting Finish Nail polish in Mocha Fever

Manicare Soft Touch Tweezers
Second Prize:
Model Co Shine Ultra Lip Gloss in "Sugar Plum"

ORLY Nail Lacquer in "Walk Down the Aisle"

Australis Paparazzi Perfect High Definition Blush in "Poser"

SAVVY by DB Luxury Liner in Pealescent Plum

Modelsprefer Multi-purpose Sponge

Clinique Happy 4ml perfume spray
Third Prize:
Revlon Super Lustrous Lipstick Matte in "Really Red"
Innisfree green tea pure skin cleanser 5mil sample
Innisfree green tea pure skin lotion 5 mil sample
Innisfree eco safety perfect sunblock sample
Ubbusfree eco natural green tea BB cream sample
Sulwhasoo deem cleaning oil sample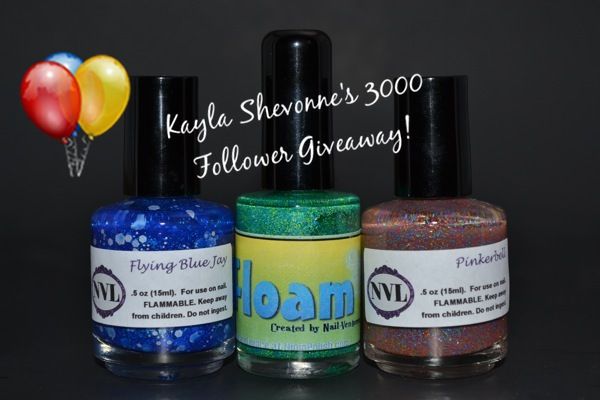 Nail-Venturous Lacquers in

Floam
Pinkerbell
Flying Blue Jay
Giant post, and now I shall go and mess around with my nails again, and hopefully put up a real blog post today <3